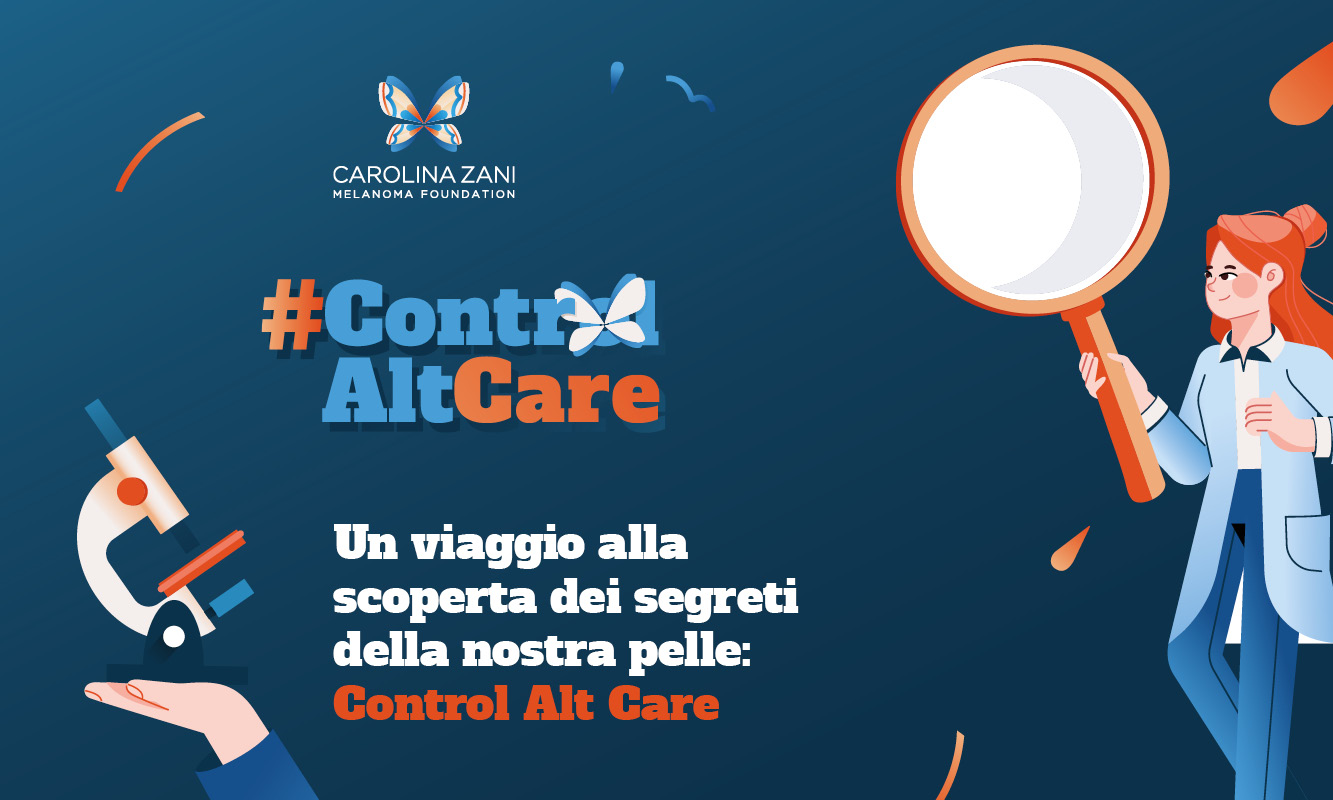 Gruppo WISE has conceived and managed – among the initiatives designed for the strategic development plan of the Carolina Zani Melanoma Foundation – the partnership with Gruppo Pleiadi, a brand specialized in scientific and cultural dissemination, involved in this project to transmit and inform in schools using innovative methods, messages of awareness relating to the need to take care of one's skin, in order to prevent the onset of skin cancer.
«Control Alt Care» is the name of the project – organized with the collaboration of Gruppo Pleiadi – as a spin-off of the CZMF main concept "Control Alt Cancer". «Control Alt Care», aimed specifically at a target of young people such as children in primary schools. Through workshops conducted with an engaging teaching style and an interactive approach – hallmarks of the company specialized in STEAM Education (Science, Technology, Engineering, Art, Mathematics) – students use microscopes, infrared lamps and didactic cards to understand the fundamental role of scientific research and to raise awareness and attention to skin care
The initiative, in the first phase, involves the activation of 100 laboratories within primary schools located in the province of Brescia, aimed at pupils in the 3rd, 4th and 5th years.
The objectives underlying "Control Alt Care" are more than one. First of all, to allow the consolidation of knowledge in the young pupils involved, related to the importance of skin care, the risks and how to avoid or limit them. Furthermore, an experiential and innovative training allows a real internalization of the contents, from which a virtuous and conscious behaviour will evolve in the future development of the individuals involved. And again, understanding and experience -is at the basis of Gruppo Pleiadi's teaching method – which serve as the starting point for a literacy work of good practices to be followed, triggered by the students themselves. In fact, they will be the ones to pass on virtuous messages of prevention in their respective circles of friends and family. A sounding board that will be able to transmit messages capable of saving lives.
Gruppo WISE has followed the project in all its implementation and promotional phases, also providing its support in the transmission of the contents by means of the press. The proximity to the Carolina Zani Melanoma Foundation, which WISE has supported since its inception in the development and structuring process resulting from a bond established since the creation of the Foundation, therefore enters another season, with ever new initiatives and supporters. The path is continuously enriched, but in the wake of an unalterable mission that focuses on the prevention of skin cancer.